Ancient Egypt is always a BLAST to do! This study took us 2 weeks. In years past we've mummified a chicken, and a fish.
This year we thought we'd follow our friend Jene's example and mummify Barbie. It's a lot less smelly! You can follow along with what we did from her great explanation.
1.
Mummify Barbie
Cutting out amulets to put in the wrappings
Barbie getting "salted" (I found naked Barbies at the thrift store for about $1 each)
Ripping Muslin to wrap Barbie. I started each piece with 2" cuts all across the top. made the pulling MUCH easier!
Wrapping Barbie
Finished Mummies
Mummies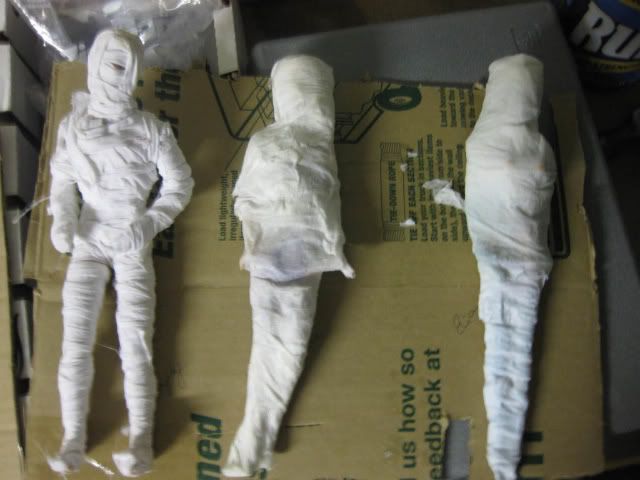 2.
Toilet Paper Mummies
We wrapped a roll of toilet paper around each child, until they were a mummy! Then they got to "break free"
TP Wrapping
TP Mummy
Some of us then decided to make Snow Angels in the TP

Lest you think we were wasteful, we composted all the rolls of toilet paper! Note, the younger the wrappers are, the more rolls of toilet paper needed, because they don't have the arm span to go around and around continously...rather keep breaking and restarting.

Look for Ancient Egypt Part 2!
My previous posts on this subject are:
Forming a Co-op
Magic Tree House Index
Dinosaurs Part 1
Dinosaurs Part 2
Vikings
Ninjas
Pirates Part 1
Pirates Part 2
Knights Part 1
Knights Part 2
Ancient Rome & Pompeii Part 1
Ancient Rome & Pompeii Part 2
Ancient Greece & Olympics Part 1
Ancient Greece & Olympics Part 2
Day of the Dragon King; Ancient China