Elias turned 8 yesterday! I can't believe how big he is, the things we've been through in 8 years, how special he is, how happy he is....he's such a blessing from the Lord.
Elias wanted a Star Wars party....and for it to be at Chuck E. Cheese....that woulda spelled a LOT of money, so I told him pick one or the other! He chose Star Wars, at a local park. Cool.
I have to say, I am the least crafty person alive. Very little creative genius flows through me, as far as arts and crafts go. That being said, I am lovinggggg surfing through craft blogs, because other people come up with the cutest, simplest ideas! I can't think of them, but I can copy them!! So, here's MY version of other people's crafts for a Star Wars Party!
First, we made the invitation.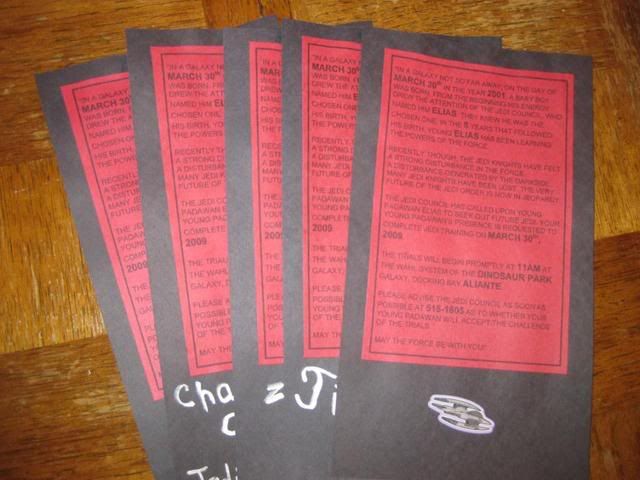 We used the wording from this
Invitation
and printed it on red construction paper, then applied it to a piece of black construction paper. We wrote their names on the bottom in Silver Leaf pen. Elias added Star Wars stickers around the border
Then I found a blog showing how
Crazy Mom Quilts
made Jedi Robes out of a Simplicity pattern 3575. While I am not a sewer, one of the local teen homeschool girls is. I often outsource projects to her...so I bought the patter, used my 40% off coupons on the fabric, and gave it all to her, voila, a month later, Jedi Robes for all attendees!
Then, as it got closer to the party, I found a cool post on
Kiddley
that showed Christmas Pinatas made of balloons and tissue paper. I thought, hmmmmmm, I have balloons, I have red and black tissue paper....why don't I make these as party favors?
Here are my supplies....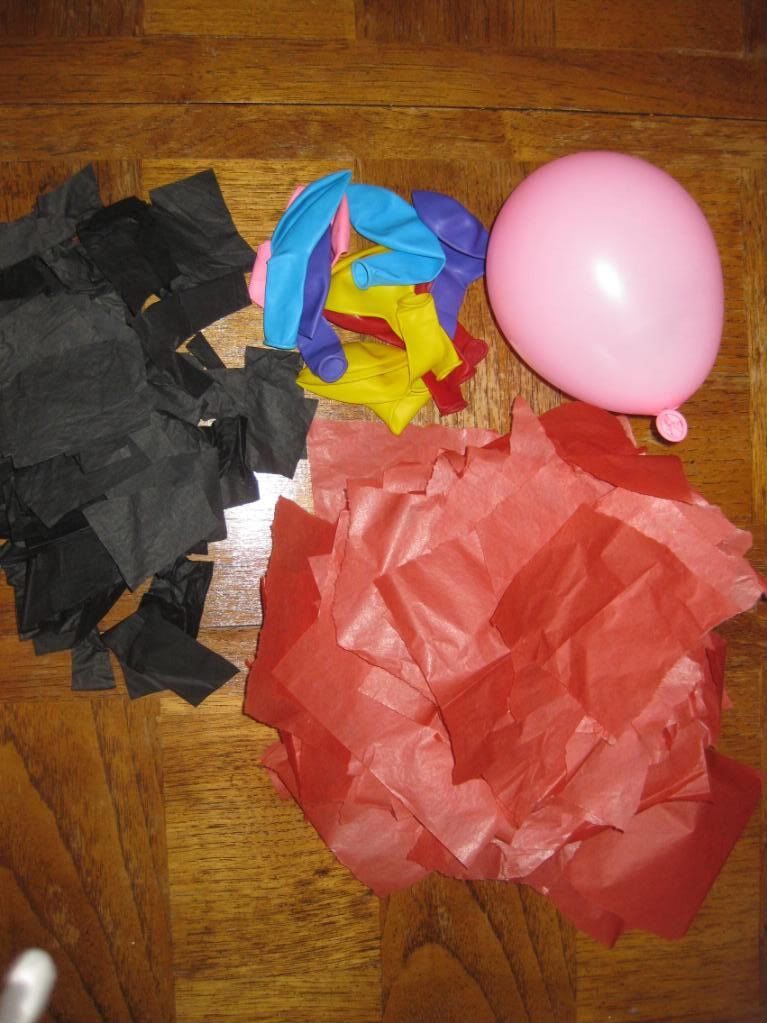 So, I set the table with a silver tablecloth, red plates that I got on clearance after Valentine's Day, black napkins, the Pinata Favors, and a robe on the back of each chair.
Here's how the favors came out. They were a hit! And so simple and cheap! I added a few candies and bouncy balls to the insides, and voila!
Then.....again surfing craft sites, I saw this post on
MakeandTakes.com
about using empty wrapping paper rolls. In my head, I KNEW all these boys would beat empty wrapping paper rolls to shreds within a minute....and then I remembered that I had bought 20 sturdy cardboard mailers for a Rain Stick project. (bought off of ebay, 20, 24" cardboard mailers = 60c each). I knew I had enough of them, so I set out all the essentials for turning them into Light Sabers.
Here Sebastian is painting his(and everyone else's around!)
Then we had pizza while we waited for the sabers to dry.
Here's the gang, all dressed up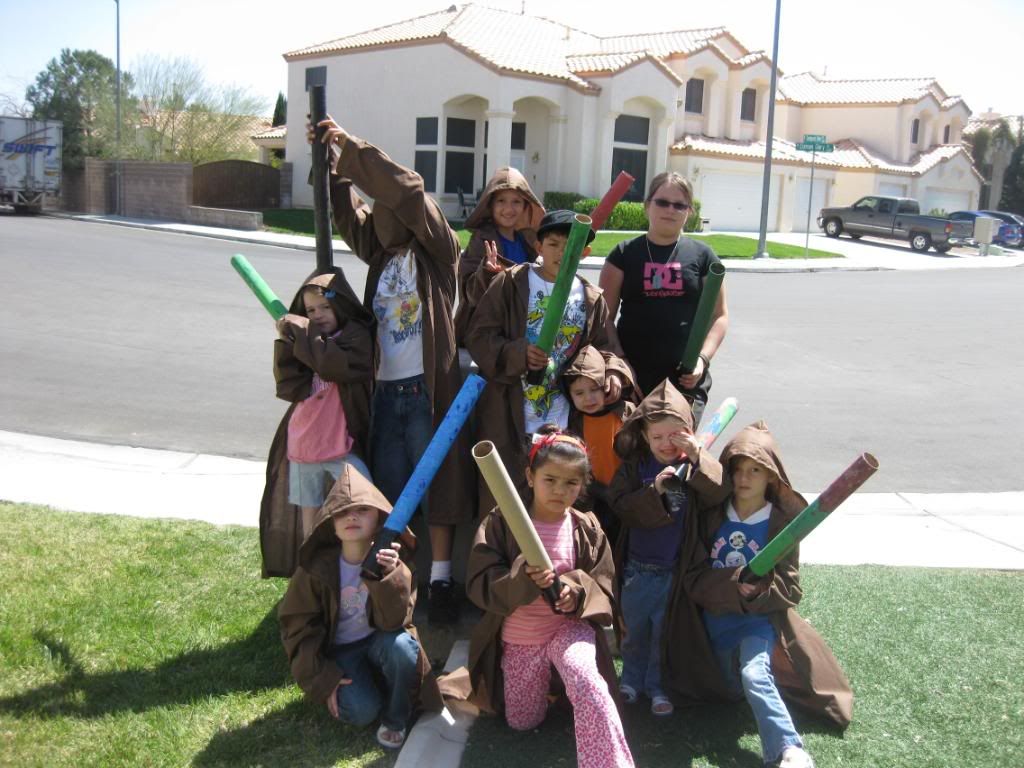 Baby Jedi...how stinkin cute is he?!?!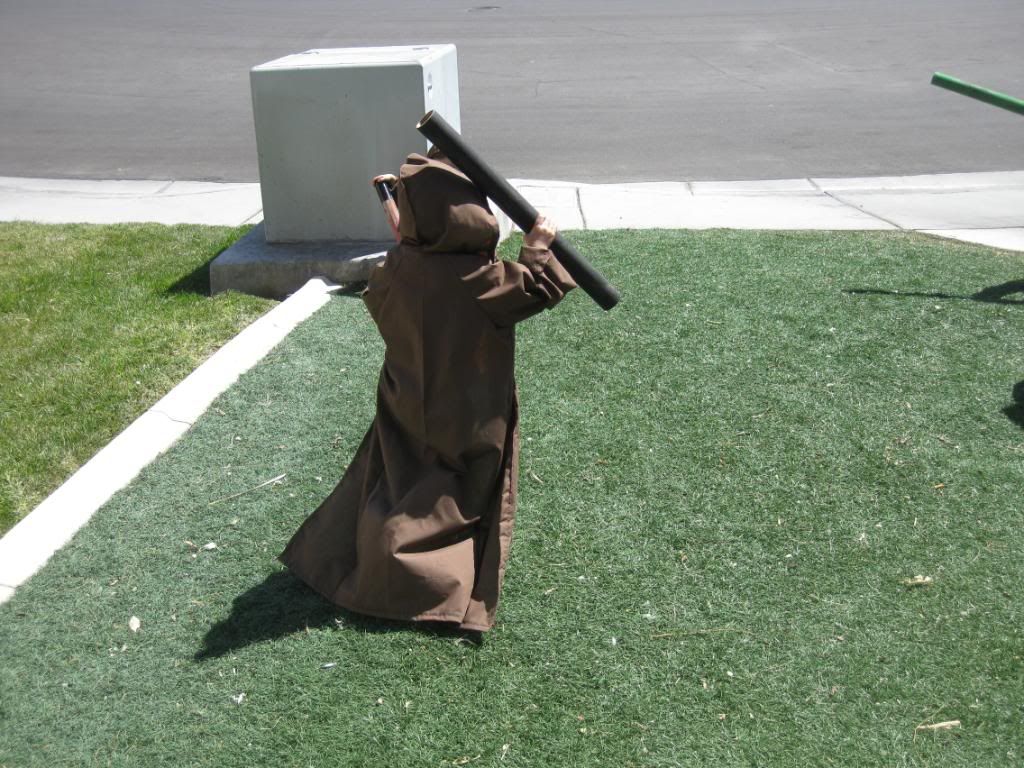 Elias-Jedi
3 yr old Jedi's fighting each other...Sebastian and Gracie
After much "dueling" we came in and sang Happy Birthday. The Birthday Boy had a grand time singing to himself! Sebastian joined in singing "Happy, Happy, Happy"
Yup, I'm blessed. They're all happy, happy, happy.