I am not a big decorator these days. When my first was young I decorated for every season! Over decorated, enjoyed it! Decorated in time for the holiday and took down after that holiday. Life just isn't the same anymore.
Now, my holiday decorating mostly consists of changing the front garden flag to reflect the holiday, and also matching handtowels for the kids in the downstairs bathroom. Other than that...I might pull out a couple of Easter themed items, and of course the Christmas Tree and some wreaths....but that's pretty much it.
My neighbor puts me to shame always! Recently she showed me the big die cut machine at the teachers supply store. You can bring in your own paper, or buy it there, and it's free to use. So, on a recent trip there I cut out a bunch of hearts (and looking ahead) a bunch of 4 leaf clovers!
I didn't remember the hearts during the valentine's season :(
But I did remember the clovers! Elias set about decorating them one day, in order to hang around the house.
Each and every clover has a drawing of a Christmas tree on it. When asked, "Why?", he replied, "Cause trees are green and so are clovers."
Like , hellloooo, don't you know?
It is so funny how their brains work!
Here's an example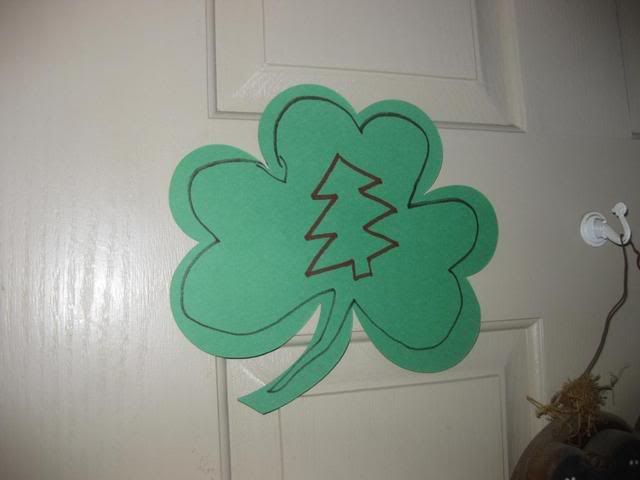 And another!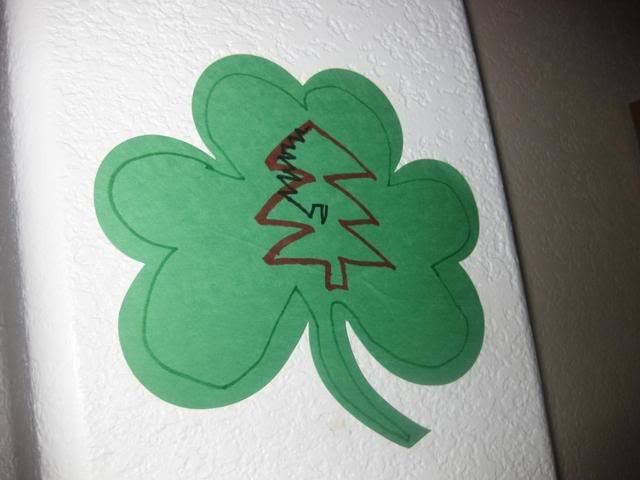 Seriously, EACH and EVERY one!!!
I love how unique/weird/special these things are we see our children do.