We had a great opportunity here in Las Vegas this last week. We got to watch the filming of an episode of Extreme Home Makeover! And, to boot, it was for a homeschool family!! Very very exciting.
We didn't make it there every day...here's the outside on Sunday (keep in mind they leveled the home on the previous THURSDAY!)
Construction site
I asked a volunteer if I could get a pic of his shirt!
During the week there wasn't a whole lot of people. We were able to walk right up, stand right outside, etc.
TODAY was the big reveal. We had over 150 homeschoolers on site! Many signs read Extreme Homeschoolers Makeover.
We got there about noon (not like some die hards, there at 8 am). I was so not into pushing my way to the front, having an inch of space and being uncomfy for a million hours, so Baby and I lingered towards the rear of the crowd. I let the kids go upfront with friends. Good choice. It was high 70's today and very sunny. Lots of crowds. EWWWW. I was happily parked in the shade, playing with the baby, and back far enough that I could see the house and top of the bus, and the limo pull up etc. Just not the activity on the street. That's ok, Brian got pics!
They had local cheerleaders there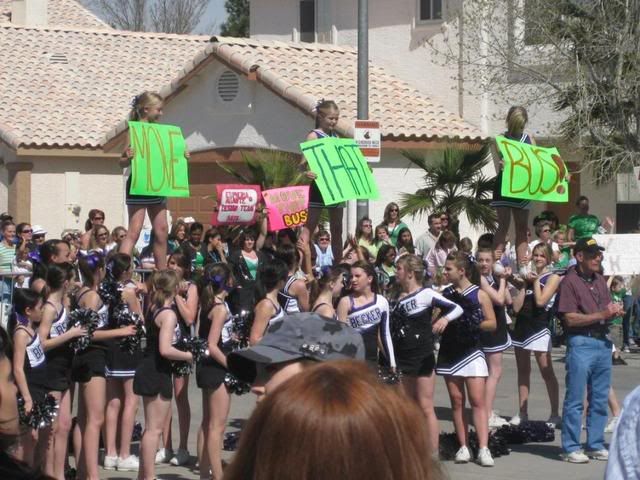 Here's Elias and his friend Cassidy...with the Limo in the background
It's really funny watching a taping. They had this limo go up and down the street a bunch of times. Don't even think the family was in it. Just filming away!
Here's the Limo turning the corner, and the bus in front of house
The funny part is...the whole "move that bus" thing, was taped WAY before the family even got there. They did this whole crowd shot and everyone screaming MOVE THAT BUS. It must end up being taped in as the family first gets to see the house.
One of the first things that happened today was Ty Pennington went all around the perimeter gates and slapped everyone's hands. My friend got to touch Ty! Here's her hand (probably never washing it!)
They had these monster cameras
At one point Pauly walked by...gaining little to no attention. He's so sweet. I quick snapped off a shot. That's him in the background in a blue shirt and blue bandanna.
Here's how Sebastion enjoyed the day. He clapped when everyone else clapped....
He ate, he played, he drank, he got a real kick out of people throwing their arms in the air screaming Move That Bus, and tried to imitate it! They said it enough he almost got it!
Here's Ty at front door. I didn't get any shots of the family, didn't even see the family as I was staying back. But I was glad to be there. I do know the family and I am so so happy for them!
Here's the Finished House! For the insides, tune in May 10th! Not here, to the tv! For the show!
If you live somewhere where there's NOT a lot of filming, and you get a chance to go....pack water and GO! It's a lot of standing, but worth it at the end to see the finished product.