Over the years I have developed a neat little simple and cheap system to keep track of who did what in what year. I'll share it with you here. First let me preface this with a few thoughts
My way is not THE only way. It is here for an example. Use it if you like, modify it to work for your family, don't do it if you don't like it! It's what I do and what I find simplest for my family.
I am NOT required by NV state law to keep this, nor am I required to keep any kind of records, portfolios or other thing.
All that being said....my system happened naturally..I was getting frustrated not being able to remember when we went on certain trips, what Brian had done with his grandparents in FL, etc. so I grabbed a binder, put a folder in it and some loose leaf paper.
After reading Cafi Cohen's
And What About College
I quickly decided to break the paper up by "subject". This is good training for writing a transcript, and it just looks nicer in the finished product. My "subjects" are: Bible, PE, English, Science, History, Math, Other. Depending on the child and the interest, some years we have Civics, Volunteer, Japanese, Computers, whatever is a major thrust that year gets its own tab.
The folder is used for all the stuff we collect on field trips. Each field trip I try to grab a pamphlet (or 3, depending on how many kids are with me!) If there is no pamphlet then at home I print out something from their website, or buy a postcard. I also save tickets, event handouts, certificates of completion, any little odd or end that I can! Sometimes noteworthy things they've written, or pictures of projects....you get the idea! And it all goes into the folder for the end of the year when I "assemble" it.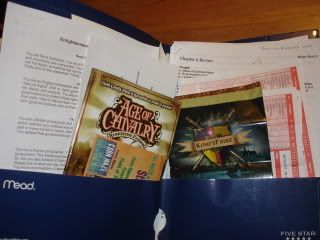 At the end of the year (We learn year around, so usually end of summer I start the next binder) I assemble the binder. I type up all the things under each category. I'll give you some examples from various kids binders
PE:
Swimming
Hike at
Red Rock
Roller Skating
Sledding
Bible:
Veggie Tales
Church
Bible Study
Awana
Youth Group
English:
(This is usually a list of books they've read)
Harry Potter and the Half Blood Prince
RedWall Series
Eragon
Edgar Allen Poe Study:
The Raven & Other Poems
, The Pit & The Pendulum, the movie, The Pit and the Pendulum
Science:
Jr Master Gardener
Gardening
Lied Discovery Museum
Camden Aquarium
Yucca Mountain Science Center
Duke Gardens
National Weather Service


History:
Story of the World
World Trade Center (Ground Zero)
USS North Carolina
The Statue of Liberty
Ellis Island
White House
Washington Monument
Math:
Jr Achievement
Math U See
Mind benders
Other:
Fire Station
Breakfast with Senators
Disney World
Epcot
Universal
Sea World
Philadelphia Zoo
Corn maize
Computers:
(Dont ask me what any of this is..techy son is on his own for this all!)
Beta tested NeoLodge.com's avatar section (spotting and reporting bugs)
LissaExplains.com
(html, css)
W3schools.com
(html, css, xhtml, php, javascript, xml)
Neopets.com (html)
Learned more about GIMP (image Editor)
Learned more about Adobe Photoshop Elements 2 (image editor)
Learned about Mozilla Thunderbird (Email client)
Learned about Audacity (sound editor)
Learned about Inkscape (SVG editor)
Installed Freespire on an old Windows 98 computer (installing an OS/Computers)
Hooked up old hard drive to a working computer for extra space (computer hardware)
Installed Ubuntu 7.04 and learned internals of it
Transferred all files from hard drive, reinstalled Windows Xp and transferred back
Learned about X11 Server
Website building, ftp
GNOME
blogging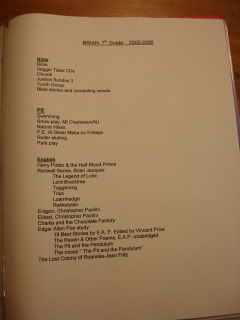 Then I paste the pamphlets or tickets or whatever to a piece of paper and insert it into clear page protectors. I buy them in bulk at Sam's Club



Jr. Ranger Certificate and Badge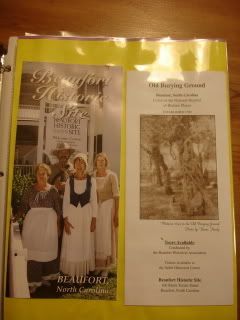 Each child has a binder for each year. As they get older they are responsible for writing their own things in it. I just compile it and make it pretty at the end of the year! Sometimes if we do a specific co-op..volunteer or cooking etc I devote a separate binder to it..with pics and descriptions. Here's some of our binders from over the years!




These make a really nice way to present what you've "really been doing" over the year to relatives and such. Plus they make a great keepsake for the children!

Hopefully this simple way of record keeping has sparked some hope in you! It doesn't have to be complicated and it doesn't have to be expensive! And you will soon see that much of your "learning" can be "categorized" into subjects with a little creativity!

At the end of the year it is very nice to look back and see how much learning has really happened, even without a structured curriculum!