What a funny New Year's Eve Day we had. Elias was all excited to "see the ball drop". We bought some little snappers and blow-things to celebrate with the East Coast at 9pm our time.
Brian went to a Pirate Mystery Murder Party for the evening. This inspired all of the kids, the whole day, to dress and play pirates.
Here's Sebastian. He got ahold of the skull cap and looked so cute in it! Darn the boy has a big head! The cap almost fits him!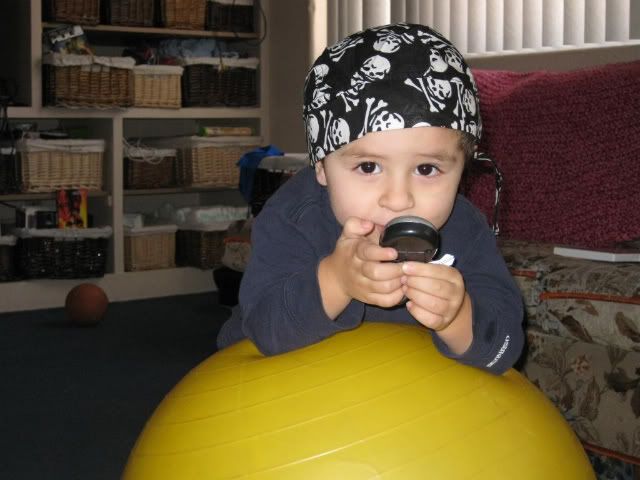 Elias has to get in the picture hugging his brother. He loves him so much.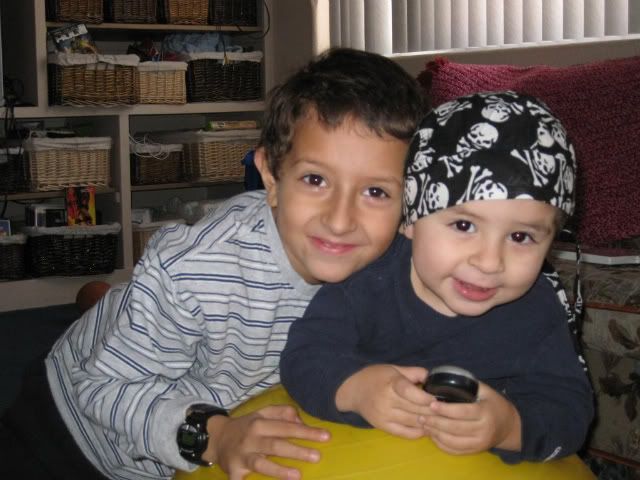 Later on in the evening Elias decided HE needed some tattoos so he could be a pirate. It started off innocently enough. A cross tattoo on his arm. Which led to another cross tattoo on his arm...which led to cross tattoos all over his face and arms AND chickenpox marks all over his face! He said he's a pirate with the chickenpox! It's so cute. Today they are still there and he's had folks ask him if he's contagious. Too cute. Shower tonight!!
Here's Brian and many of his friends dressed as Pirates. Brian is barely visible, in the back row, far right. Yes, it's "foggy". They even brought in a fog machine!!!
The moms that decorated the area went all out. Here's the Pirate Ship. They really had it decorated to the hilt (Pirate joke intended)
Everyone had a very nice night. Yeah, it's 2009! A brand new year! Hope everyone makes the most of their time, whether a new year or not. But it is a good time to use the phrase, "out with the old and in with the new"! New attitude, new whatever you need.