Knights also took 2 weeks. I had some grand ideas for these weeks, but a few of them didn't work out.
1)
Build or borrow a trebuchet. Some simple instructions can be found online. I didn't feel that my class could handle making one, but I sure would have loved to shown one off!
2)
Get a speaker in on Homing Pigeons. I use local speakers whenever I can..find an expert at local pigeon or racing club, and ask if they can come in, speak about the birds, their use through history and maybe even bring a bird in with them! Over the years I've had a beekeeper speak, a man from the Bonzai society and more. Most people with genuine hobbies and intellects love to share their knowledge!
Knights Outline Part 1
1.
Discuss what is the Middle Ages?
2.
Talk about Castles
Parts of castles
, different uses, and how they were protected.
They all ended up drawing castles
3.
Build a castle out of blocks
I thought this would go over well, it didn't.
4.
Talk about Knights
Different Stages
, What their job was, etc.
5.
Show pictures of their armor
6.
Make a Helmet
We collected milk jugs, 1 per child. Cut off the tops, cover with aluminum foil. I had found foam swords and breastplates of armor (plastic) at the dollar store. Couldn't pass that up! So, they had a complete outfit each!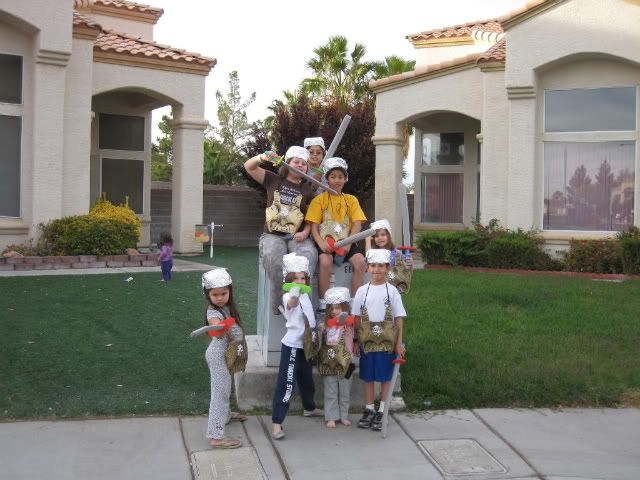 7.
Jousting
With their new swords of course they had to joust!
Look for part 2!
My previous posts on this subject are:
Forming a Co-op
Magic Tree House Index
Dinosaurs Part 1
Dinosaurs Part 2
Vikings
Ninjas
Pirates Part 1
Pirates Part 2