(Does a year late count? If so, read on LOL! Elias is now a Wolf, but this is the beginning story of his Scout Adventure)

No, not real tigers....tiger cubs! Cub Scouts!! Elias has wanted to do boys scouts for a long time, and I told him this year we'd do it. Over the summer he told everyone he saw , "I'm going to be a boy scout!". Well, the pressure was on! Find a nice pack.
My friend Angela and I used to lead cub scouts, way back when our teens were little. Then my son got out of it, and hers kept going, so I looked to her for advice on packs. You know, you want a fun pack, but one that's homeschool friendly...an organized pack that does cool stuff, and has nice leaders...lots of things could make or break the little guy's first experience!
So, Angela pointed me to 2 packs. 1 large, but super fun, super nice, but did I mention large? 1, newer, much smaller, but also fun and organized. Anyone guess which one we tried first?!? Yes, the smaller one!
So we went Monday night to our first meeting, and he LOVED it. They played games, they worked on activities, and the coolest thing..they are working towards the Presidential Physical Fitness Badge. The leader explained that every day they have to write down some activity they've done, and then at the end of 6 weeks, she gives it all to the President, and he will send back a certificate and a badge! Boy, was he excited!!! Man, this pack has it going on!
Not only did the pack work for Elias, but also for me and Sebastian! As a mom of a Tiger, you are required to stay. Staying with a 2 year old, especially one with special needs.....not always the most fun idea. But, the leader has 2 special needs foster babies/toddlers. There are actually quite a few kids with various needs in this pack. And the kids are SOOO loving with the babies!! I have never seen so many boys want to play with or hold babies. It was amazing. Everyone looked after the babies/toddlers, they weren't seen to be a problem when they cried, or when they ran all over..it was fabulous!
So, no need to try the other pack, we're very happy here!
So, that was Monday. This pack goes year-round, so they had just started their popcorn sales and they also let us know the Space Derby was on Friday. Yes, as in, 4 days from then, Friday.
We got our Popcorn Sales stuff, and our Space Derby kit and got to working on it all.
The next morning, Elias jumps up, does his "exercises" and puts on his uniform to go sell popcorn! Man was he raring to go! Ok, so by 10am on a Tue morning we're out selling popcorn to our neighbors. Good thing they all know we homeschool! The minimum "requirement" was $75, the kid sold $230 in half an hour! He was so cute, "Hi, I'm Elias and I'm a Tiger. Would you like to buy some popcorn?" He had scripted it all out with me before we left the house, had play acted it out a bunch of ways. He was so cute!!!! We need to get back out and sell some more, but the Space Derby started to take precedence.
So, we started on our Space Derby Kit. Sanded it all down, then got to spray painting it. Primer of white, then color blue. I had to ask Angela's kids to help me figure out the directions ( it takes a strong person to ask a kid for help!) and we got the pieces all glued into place.
Here's a picture of Elias before the event, holding up his Space Rocket.
Here's the rocket right before it launches.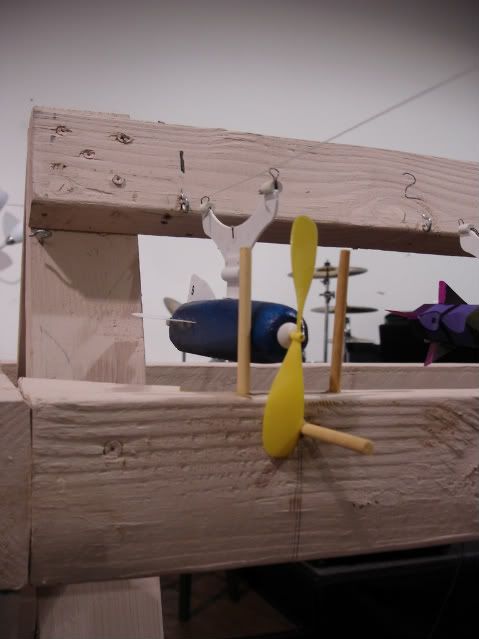 Now, if you don't know anything about space derby....well, it's fun but its llloooonnngggg. Have to keep disqualifying rockets after giving them a bunch of turns. By the end the kids had even lost track and were playing around. Eventually everyone got given certificates of achievement and the 1st, 2nd and 3rd place winners were left. Elias was one of them! He got 3rd place! It was so cute! Here's that pic.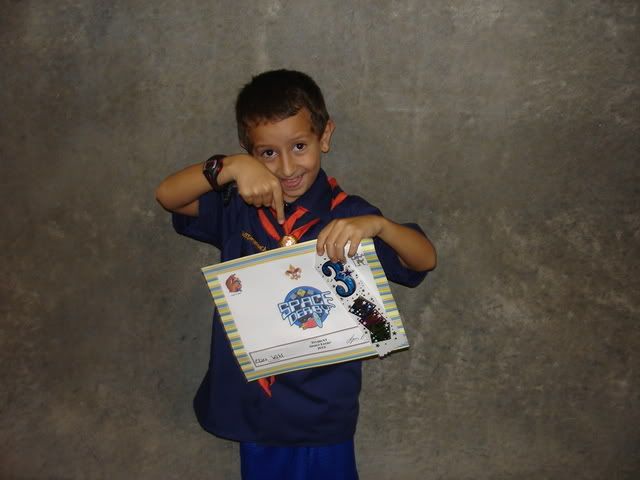 He's so enjoying scouts. What a great way to start off in the program!