We took many trips, on our own, on guided tours, and with Chris' friend Martie and his wife.
We saw the malecon...boardwalk, which is surrounded by a downtown shopping area. A bit further, a huge, many streeted flea market, where we bought many of our purchases.
We took an all day trip, all over! The tequila place, scenic coastlines, etc and a nice outdoors lunch at a local restaurant.
We went to
Las Marietas
where Chris was able to scuba dive and we got to frolic in the beautiful water.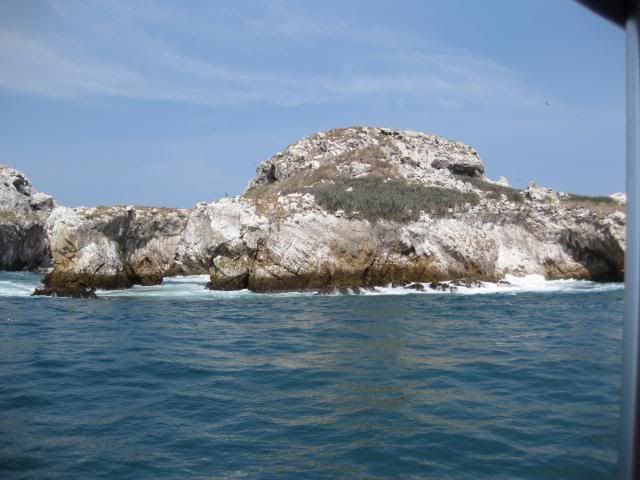 At the Marina, an enterprising soul brought in this Sea Lion...which of course Chris loved and had to get his picture with!
We had an all day tour to
Las Caletas
, an island paradise complete with dinner buffet looking out over the ocean. At this location Chris went Scuba Diving again while I got a peaceful massage. We met up for an afternoon of rest and tanning, and dinner. It was beautiful!
Private beach at Caletas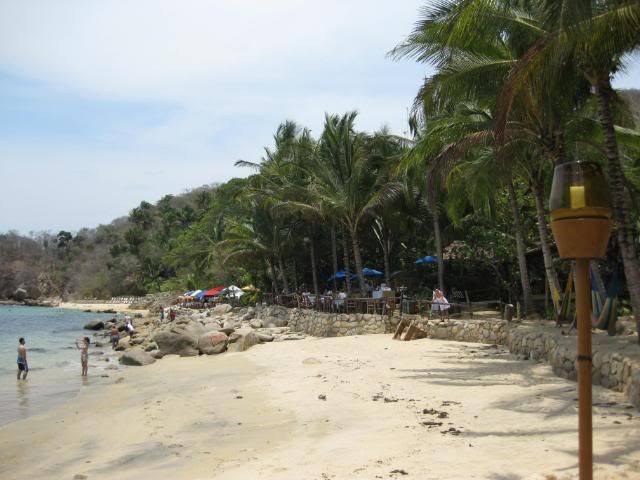 What a beautiful setting for dinner
Should have seen us trying to take a photo of ourselves...this is probably the 15th try!
Nap time after dinner!
The tranquil massage room!
Another thing Chris really wanted to do this trip was Parasailing. I was somewhat open to it, until we got there. All the directions flipped me out. Pull here when we whistle once, Do this when we whistle twice...ACHH!! I'd be in the ocean! But Chris did it and had a blast, and I took pictures and sunbathed!
A big thing on my to do list was an Oceanfront Massage. The massage I got at Las Caletas was nice, but not on the ocean....I was envisioning the tent with flowing white curtains, the sound of the ocean, waves slapping the sand......and I found it at the second hotel we stayed at! It was all it was hyped up to be! Fabulous!!!!
We tried much of the local cuisine, and many local little mom and pop cafes. I particularly liked Sope-bread with meat topping.
A restaurant we went to 2x was Pipis. It was downtown. The service is unexplainable. They are right at your elbow, cleaning up crumbs, whisking away plates....and it is very reasonably priced.
This is the street outside Pipis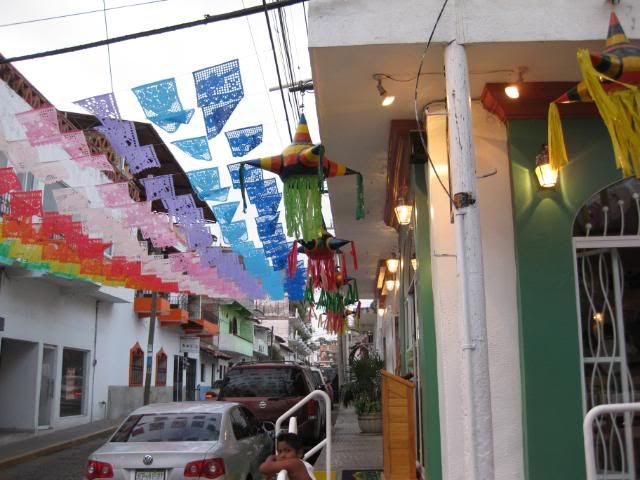 Here we are: Pipis!
I loved walking around downtown. It was so beautiful and old. These are the types of buildings we'd see:
We also tried some local places such as Carlo's tacos in Fonavitt and Dona Tere Pozole's- close to the Sheraton and Cafe San Angel-their version of Starbucks- in Old Town. All very relaxed, very family-run, very patron oriented...everyone knew your name!
Along the theme of "animals as an attraction", like the Sea Lion, while we were at a restaurant, there was a man who led a horse around and allowed you to ride it and take pictures wearing some cowboy gear. Chris doesn't understand a word of Spanish, so when the vendor was talking to him, Chris went over (Sucker!!) That's ok, it made for a great picture (and a snickering wife)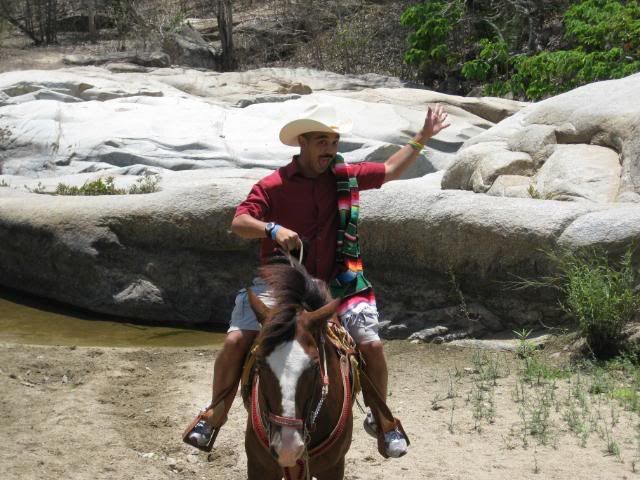 At another location someone had their humongous Iguana...$1 for a picture
Yeah, we are suckers!
Really...we were helping the economy!
Overall, it was a fabulous trip and we'd encourage anyone to go there!