Look what I got to come home with!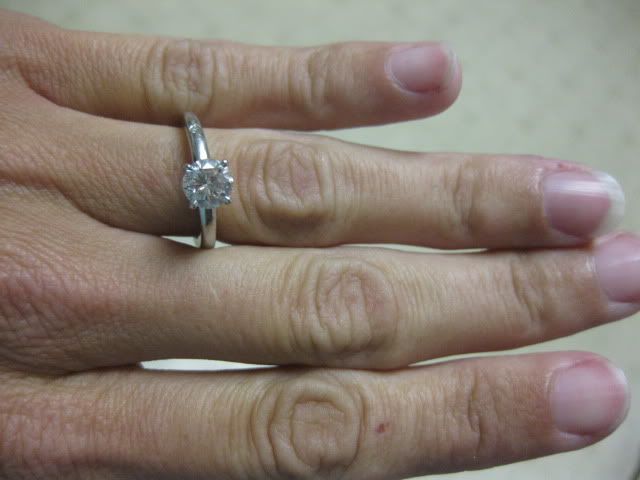 Ever since I got married I always said, "At 10 years I want a "real" diamond in my wedding ring."
A few months ago my (small) diamond fell out of my ring, leaving the prongs exposed. I couldn't continue wearing it like that. Since my rings are soldered together I couldn't even wear my wedding band! This has been very rough on me.
Then I went back East , and my brother was trying to sell his ex-wife's engagement ring. This sweet and wonderful, compassionate and understanding woman knew she could only have the best. Even though they were young and buying a house, she chose the most beautiful platinum band and setting, with a diamond chip on the side, and one of the most high color and clarity diamond she could find! It's .975 ct and just beautiful! (Can you read my sarcasm). It set my brother back about $7,000. Nice huh, can most of us afford that even after 10 yrs of marriage?
So, we went around and got prices for re-selling and "note to buyers", diamonds only re-sell for about 1/3 of what you bought it for, and each and every place will give you a different quote on the same diamond....shop around!!
Long story short, my husband bought me the ring! YEAH!!! Now to figure out if it can go in my wedding set or if we need to purchase a new band. That's a problem for another day, meanwhile I watch the pretty sparkle!