According to the temperature reader in my van, today was 105.  That's HOT! We spent the morning at my parent's hotel pool, swimming and relaxing. It was the perfect temp! This was Sebastian's first time swimming this season...and he loved it! He tried to get away from me on the beach entry. Then he kicked his little legs a lot while I was holding him.
Here's Nanny holding up Sebastian, and Elias peeking through.  It was rough trying to get good pics without getting splashed!
I always say I don't get pics of myself, well, my mom got one of me! Here I am with little lovely.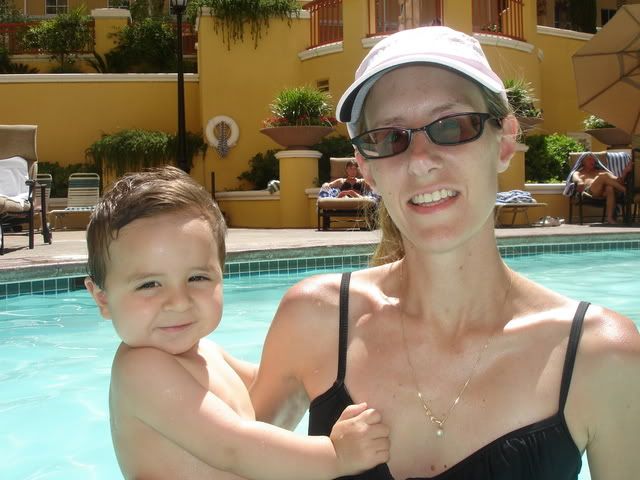 He played himself to sleep. Literally. He fell asleep in my arms, in the water and stayed that way for about 1/2 an hour. I love little snuggly creatures!  (Even if they do get heavy and leave weird tan marks on you....)
Elias meanwhile was having a blast being thrown by my dad, towards my mom, who would then "get them" by splashing them! He did it over and over and over and over...my dad got tired before he did!
We're going out again tomorrow morning. It should be another hot day!