A local (off-strip) Casino was having a Cinco de Mayo  festival in their parking lot today. Not that Elias knows/understands/cares about Cinco de Mayo...but ait was a family event, with jump houses, merry-go-round, mariachi bands, etc., so we went with our neighbors.
It was borderline too hot, but there was a breeze here and there, plus some shady spots.  The kids had a blast...and that's why we went!  So it was worth it.  Of course, I lucked out...Brian wasn't interested in going, so I left the baby home for his naptime with big brother!  This meant I didn't have to drag a cranky baby around in the heat for something that didn't interest him!  YEAH! Plus it was nice for Elias to have me take just him.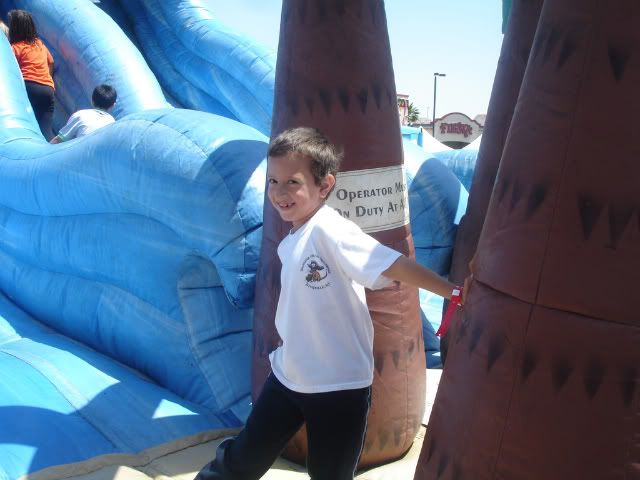 Look at this beautiful boy!  What a mischievous little smile he is wearing! He was weaving in and out of the palm trees, but I caught him! This was a big slide...he loved it.
Here's Elias and our neighbor friend...they are inseparable. I caught him mid-air..he says this picture is "awesome!!"
My little sweaty angel.  They had a soccer team doing face paintings..he wanted Spiderman but that was a little too complicated..they gave him a spider.  He went back later on and got another one on the other cheek.  They're cute!
I'm never in pictures!  I'm always the picture taker! My neighbor grabbed my camera and got this one...ok, I'll post it, you may never see another one! 
Fun couple of hours, then back home for air conditioning and ice-cream!