Finally, I have pics and a report! Brian went to 2 local teen formals last weekend. I only have pics of the 1st night, but that's ok, he wore the same outfit the 2nd night.
The first night the group went to a local Japanese Steakhouse, where they cook the meal in front of you. What fun! Brian loves these types of places, and the food!
After dinner they went back to one of the mom's houses. She had set up a dance floor in her backyard, and linen-covered tables, and desserts. All of the kids got a photo taken, and the girls got a long-stemmed rose.  AWWWW!!
Surprise of surprises, Brian got out on the dance floor! Some of the kids had taken a dance class earlier in the month, but it was during Brian's Japanese class. (They did offer a 2nd class, and Brian did get to take that...but it was after the dance!)
Everyone seemed to really enjoy themselves. It was very well planned and everyone behaved wonderfully.
The next night a different local group went out to a fancy restaurant for dinner. It was also very nice, but a little....long. The kids could only order 1 of 3 items;  (manicotti, lasangna or ravioli)  poor Brian isn't a huge Italian food lover, or pasta lover.  Then there was quite a while in between courses, or quite awhile by kid standards anyway.  And then a speaker. He just didn't have as much fun. For the experience, though, it was nice.
Brian

Brian, Ruben, Devlin & CJ  (aren't they dashing?!?!)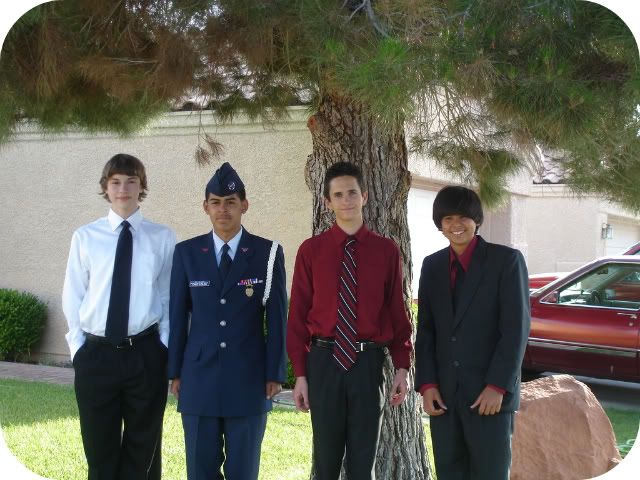 Doing some sort of line dance....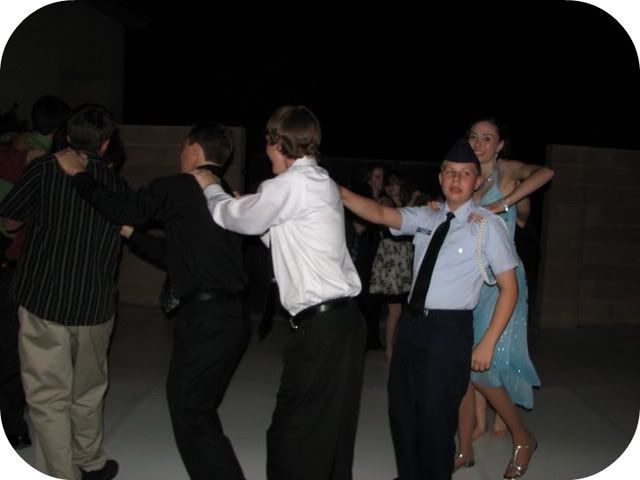 Wow, he's out there! I can't believe it!
We are looking forward to next year's formals! (Well, at least I am!!!)