So, one of my parents projects this visit was to paint Elias' room. Last visit they did Brian's room (now a lovely shade of neon green, with black and gray furnishings and rugs). Elias made it clear he wanted a Spiderman room. For Christmas he got Spiderman border and peel & stick figurines. We picked out the room colors to match!  (I'm just lucky he didn't go for red and black) Now, keep in mind, this room was white and bubble gum pink, with a beautiful Ballerina border. Poor boy!  He's lived with it for a long time. This is much better!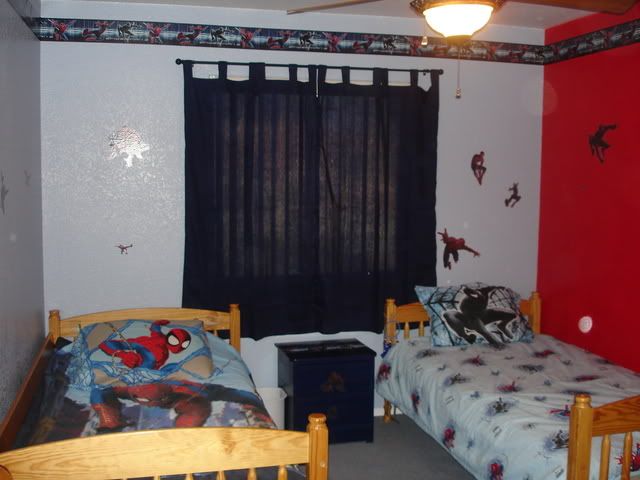 Here's the border...part red Spidey part Black Spidey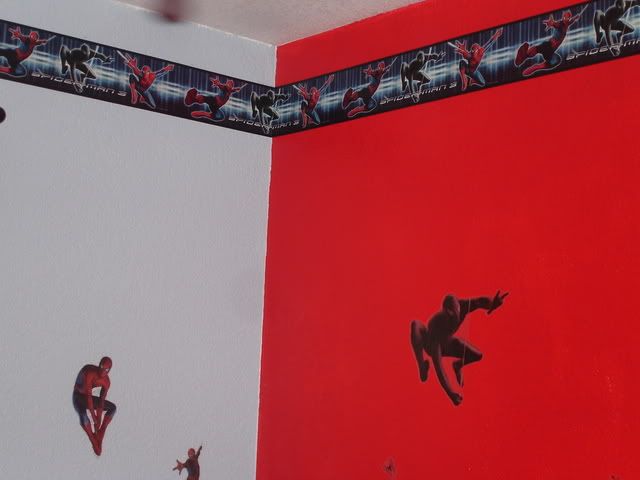 The peel & stick things are cool cause you can add them anywhere! Closets and nightstand both got some.
And here's a new comforter and pillow Elias' grandmother made him. Now both beds have Spidey bedding!
It was a lot of work, but he's SO excited! And he adores his new curtains!  Before a street light was coming in through the blinds..now he can sleep like a baby (or so I hope!)
He's been showing everyone the room today...even the baby's speech therapist! He's too cute!