My parents were here in May...prior to coming Dad always wants to know what projects I need doing around the house. Usually I keep a running list of loose doorknobs, squeaky chairs, cupboard doors that need rehinging, etc. This year though, Elias wanted a treehouse. Dad spent months drawing up plans, revising, pricing the items needed and more. Elias was soooo excited!
So Nanny and PopPop come....in May...in Vegas....and it was the hottest May yet! Eureka it was nasty outside. But PopPop plugged away building this fort for his grandson. Our neighbor came over and helped a lot, and loaned us all of his tools too! Another friend donated much of the wood needed...and it all came together!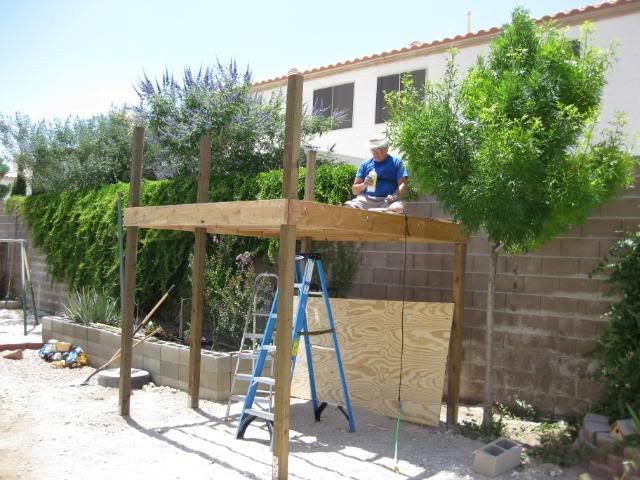 We did run into a snag or two....called neighbors and HOA. The height of the floor was at 7ft, and then there was going to be a 6 ft high area inside....but my back wall is only 8 ft high. SO when we put up the walls for the fort, and there was 3 or 4 ft above the fenceline, my neighbors were not thrilled. After meeting with them we agreed to lower the height of the walls and we added latticework to the top section to maintain their privacy.
PopPop worked on it up to his last morning here...and Elias is so proud now to show it off! There's not enough room to stand, but we bought an indoor/outdoor carpet for the interior...a bunch of chair cushions for seating and a little table. It's SOOOO cute in there!
Because it's so high in the air, we have plenty of SHADE underneath, so I put a few chairs and some of the play toys underneath...it's perfect!!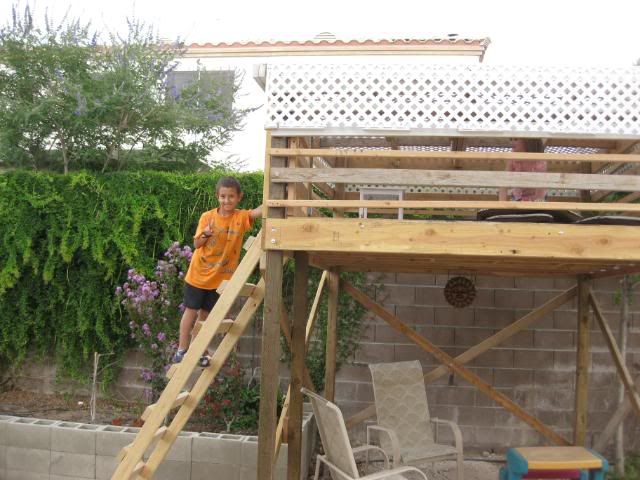 All of the kids love it. It's already been used and used and used. Thanks PopPop for loving us so much and for always looking out for things we want (not need!).