Elias LOVES trains! We do as many train related activities in our travels as we can. One year we went to the
Train museum in Balboa park
, while in NJ we rode the
Black River and Western train
, both the Christmas Train and their Great Train Robbery, and recently we saw the
Nevada State Railroad Museum
in Carson City. This year we finally made plans to ride the
Santa Train
in Boulder City!
We caravaned out with our neighbors (6,2 and infant) and had a nice time! Luckily we had planned to go early in the day, because the later it got, the sooner the next train and even the following train, were selling out! We had perfect timing. We got the tickets for the next train, departing 50 minutes from then and found out they had a little engine ride! So we got in line and did that! It was short and sweet, but still neat!
Then we got in line for the loading of the Santa Train. Boy, did they pack the people in! It was a good thing we only paid $2 a ticket because it was WARM in there, but the kids didn't seem to mind.
We were finally on our way, listening to Christmas Music. The train goes up maybe 7 miles and then switches and goes back to the station. As we were heading back Santa finally made it to our carriage. Again, good thing this wasn't an overpriced ride, because Santa really didn't have much time to be personal with everyone due to the MANY people on board! But, the kids still had fun seeing him.
After we got off, we made our way over to a steam engine. The owner, just a regular ole private person, brought it down to display for this busy season. This was REALLY cool! The owner had built a few hundred feet of wooden tracks so we could see it move and poof out the steam! First we had to watch the men gather the wood, then stoke the engine, and then we had to back up FAR FAR away because the steam came billowing out. It was something I hadn't seen before, and the kids were as enthralled as I was.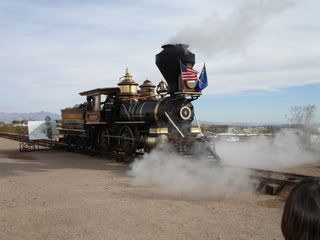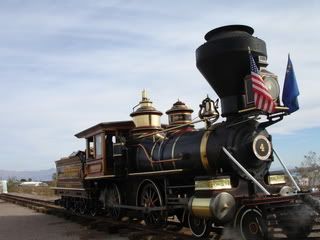 To make the day even better, we stopped at A & W for lunch, got rootbeer floats and chili fries, YUMMMMM, good greasy food!
Here are some cool train toys:
Figure Eight Train Set
Train Floor Mat
Stacking Train
Train Sound Puzzle
Alphabet Train 27pc Floor Puzzle