While most people think of living in Las Vegas as living in "Sin City", we know there is so much more to it than that! We have some of the prettiest sights within an hour's drive! We are always out and about looking at nature, and while it may not all be green grass and trees, it's beautiful in it's own way.
Most of the cool places also have either
Jr Ranger programs
, and/or ranger led educational programs you can avail yourself of. And we do!
Red Rock Canyon
( And here's it's more official website..both have great info
Red Rock Canyon National Conservation Area
) is known throughout the world for its spectacular rock climbing. For those of us who are lucky to live close by, it's well worth the $20 yearly car pass! There are great hikes with
Petroglyphs
and
pictographs
, waterfalls, caves, birding, you name it, they have it! Their Ranges also do
Educational Programs
, which homeschoolers can set up! So, we do!
We did a recent trip on "What's A Desert?" While it was geared for K-2nd grades, Red Rock, like most places, understood we don't always "do" grades, and that there are often older and sometimes younger, siblings along.
This educational program was about the 5 senses. Their website quote is, " Through multi-sensory activities, students will learn about desert animals , plants and rocks."...and they did!
They got to TOUCH all sorts of animals and pelts (below is an owl)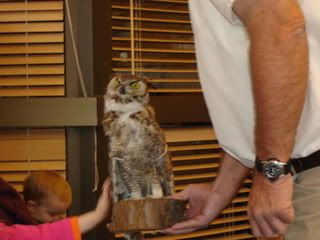 They got to HEAR all sorts of animal sounds.
They got to SEE many animals and plants on a scavenger hunt around the Visitor's Center
They learned about TASTE, what desert plants are edible and what tastes BAD
And they got to SMELL a very cool plant, a Creosotebush, which smells like rain when you breath on it!
It was a fun hands-on class, and the Ranger was great with the kids!
After the class, many of us caravaned out to various scenic points. Here's Elias out in the beauty of nature!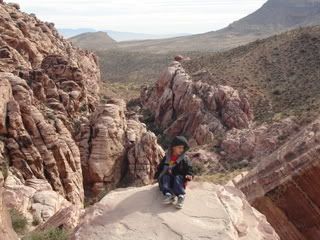 We ate lunch at a neat little picnic area, complete with a cave that you have to climb to....and climb we all did...repeatedly! That spot is always a hit! Not too hard, not too easy and just high enough to get a spectacular view (or scare mom's socks off when you get close to the edge of the ledge!)
Then a couple of families took a nice hike. before heading home. Remember the TOUCH/FEEL part of the lesson? What else can one TOUCH or FEEL in the desert? You got it, a CACTUS! And my 6 yr old sure FELT it when he barreled down a trail and ran right past a cactus, inserting about 20 quill like needles into his knee! Luckily a well-prepared dad had tweezers with him and "operated"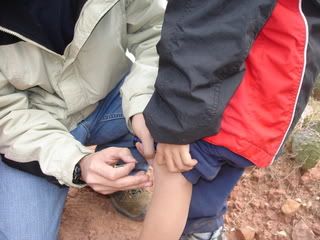 Much better after that rough patch! I'm sure Elias will always remember his impromptu "surgery" while on a hike!
It was a beautiful day, perfect autumn weather and lots of fun and learning!
We have many beautiful areas around us, Red Rock is one of many that we frequent. Check some of these out if you are ever in our area...and if you live here..be sure to set up some educational field trips (and invite us along!)
Red Rock Canyon
Lake Mead National Recreation Area
Death Valley National Park
Valley of Fire
Mt Charleston