Yesterday we participated in one of our local homeschool group's Christmas Party. This one was actually hosted at our house! Every year a group of us gather and have the kids make Christmas crafts. This year we thought we'd incorporate that into the party!
So, for the party we :


Ate of course! What's a party without a Potluck?!?


Played!


Did a Santa Shopping Day...all the parents brought some items $5 or under and the kids all got to shop for mom and dad. An older sibling helped them each wrap their items for a beautiful and special gift giving!


Did Christmas crafts!


Elias making a glittery Christmas Ball ornament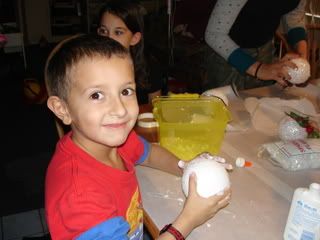 \
First, you have to play with GLUE! And get MESSY!! What fun!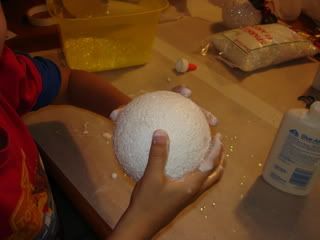 We had a good mix of teens and "littles". The teens even got into craft making
Brian's Christmas Tree
Elias and Cassandra making snowmen ornaments
Even little fellow was happy! All dressed in Christmas gear!
Brian won't ever knowingly look into a camera! Here's side view!
Our Christmas crafts aren't expensive and they certainly aren't fancy, but each year the kids have a blast! And, it makes it fun while we're decorating the tree to go back and look at the ones we've done over the years.
Here's a cool link:
DLTK's Crafts for Kids
. It has not only cool crafts, but coloring pages, recipes and worksheets!
And, where would we be without
Enchanted Learning
's website? With all their knowledge on every topic, the Christmas Crafts for Kids is always awesome!
And, the most well known of all....
Family Fun's Christmas 2007
Hope these get you started on an annual tradition like ours!