Saturday was Elias'  first soccer game. Ever. He got up in the morning,  excited but "nervous"...he's so funny. His team, The Green Goblins, are a 5 & 6 yr olds team. Elias is 7, but because he's a tiny little thing, and has had overall delays, he's put in with this age group.  There are actually 2 kids on the team taller than him; he fits right in! There are no scores "given" , it's playing just "for fun". No pressure.
I didn't know what to expect. First of all, past experiences with older kids have shown that our kids aren't too sports savy...although this kid is all boy, and all energy.  Add to it, it was a sweltering 96 degrees, and the game was at high noon with no shade to be found.
The kid took off!  He was on the field first (they play 4 on 4). He was amazing!  He got in there, kicked the ball, was always running, he did great!
He's such a ham though.  My husband always swears if he was in school he'd be the class clown. He asked me 1/2 way through if I was routing for his team. And he asked loudly enough that the 2 moms sitting next to me started laughing.
Then, <gasp> he scored a goal!  he had tried a couple of times, but missed, and he did it!! When he got called out, he told me "It was about time I scored one". What?!?!  goofball, it's your FIRST GAME!  He scored the 2nd goal of the game!! He's so funny!!
He had a blast!  I'm so proud!
Look how cute! He's #5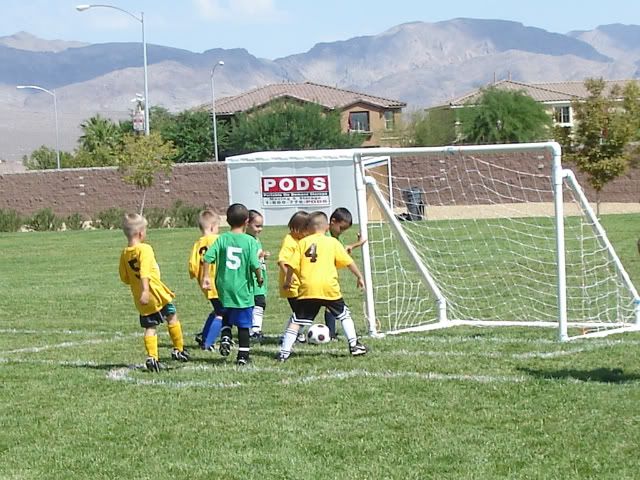 Here he is, just out there getting it!

And here's The Goal! I can't believe I got this shot!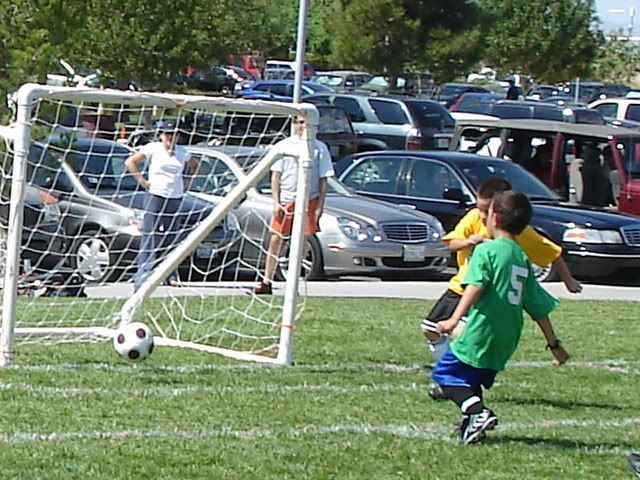 Go Green Goblins!!  (And, btw, they won!)