Baby castings! Hand Castings! Belly Castings! They are literally your baby's hands or feet (or your belly) put into a mold, then later the mold is filled with plaster, to create an exact replica. Down to jagged fingernails & every line and crease. They are so beautiful!!
When Elias was in the hospital, a wonderful friend Chawna, called in a friend who did it. Now, I have little hands and feet castings all over, and have used them as precious gifts to my family. I even have one of my hands clasping the baby's hand.
Some women do belly castings, in case you want that keepsake! You can paint them afterwards, decoupage them, whatever.
I know of women who are going to go through a mastectomy or vulvectomy, and want to "memorialize" themselves before the surgery. It can be very healing.
Whenever I look at Elias' little hands and feet I remember what a journey we've had with him, and what a gift his life is.
Here are Elias'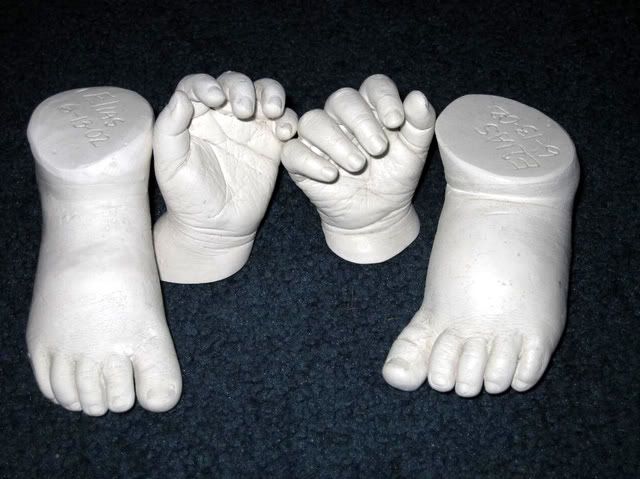 One foot was bigger than the other, he was very swollen and one leg had massive fluid in it...his poor little body....we were so blessed to have these keepsakes.
By the time Sebastian was born, the lady that did Elias' castings had moved away, but there were still several local ladies that did it. I set up an appointment with one and had a great experience! They even come to your home...very easy.
I had my hand done holding Sebastian's. I love it so much!
And here's Sebastian's hands and feet.
Casters in the Las Vegas area:
Shannon
sbm1001@gmail.com
Hearts & Hands
Beautiful Hand, Foot & Belly Castings
Karen
Get Plastered
(702) 498-3718
I'm sure there are others...google under attachment parenting, or midwives, or simply belly casting. Have fun with it!